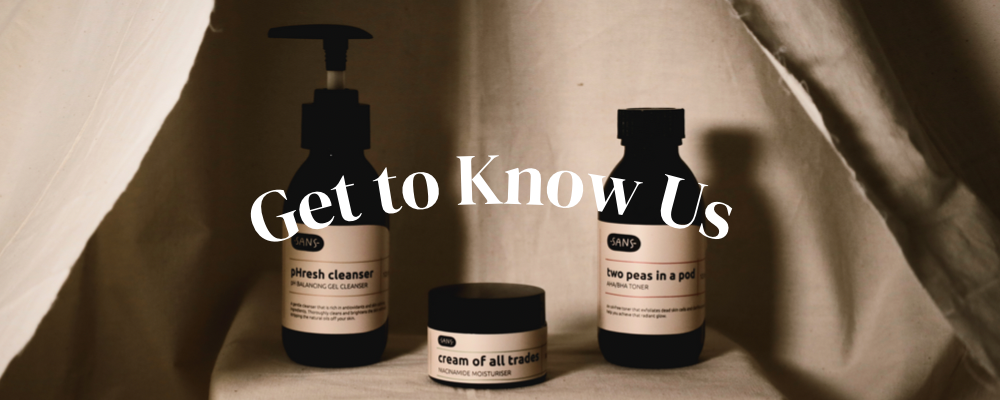 About Us
The founders of SANS are Malaysian skincare enthusiasts with a common goal of being better and doing better. We want to be part of the sustainability revolution by providing a chance for others to be a part of this change simply through their skincare regimen. We always make sure that our values are reflected in every aspect of our brand. Hence, it is important for our users to have full disclosure of the products that they are using. From the beginning of production right to your doorsteps, know that every little environmental impact has been accounted for to ensure your skincare needs are met with our best effort to avoid further damaging our environment.
Our Story

SANS simply means without. We are:
1. Without harmful ingredients for your skin.
2. Without damaging practices for the environment.
SANS was founded because practising sustainability or simply living eco-consciously in Malaysia often comes with a hefty price tag and major inconvenience for many. With a goal of providing accessibility for people to live eco-consciously on a day-to-day basis without the need of making a special effort, our answer was— to provide a skincare regimen that can help people be the best versions of themselves plus gradually grow to be advocates for the environment. With our creation that is made without toxic ingredients and packaged with our best effort of a completely environmentally friendly packaging, our customers are helping the environment just by being users of SANS.
Moreover, SANS was founded to promote inclusivity and diversity in beauty. It is our utmost priority to cater the needs of individuals of all ages, genders and ethnicities with all types of skin concerns, and through that remind individuals that traditional beauty standards do not define beauty; especially in the diversity and beauty that exists in your skin.
Our Aim
Our aim is to build a diversified beauty community that not only focuses on skincare but also the importance of practising sustainability in their daily regimens.
Our Mission
To provide the best clean skincare regime for everyone and be a part of the solution to our environmental issues.